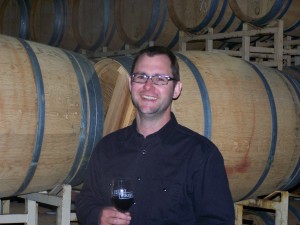 "I want my wines to be honest", seemed to be a recurring theme as I interviewed Chris Primus, wine maker and vineyard manager at San Juan Vineyards on San Juan Island, Washington State. From the first time I talked seriously with Chris about six years ago, he has been a proponent of making wine with as little influence from oak and other methods that he believes mask the true character of the wines. As he puts it, he likes to see honesty in the wines that he puts out there.
At first, I did not fully buy into his wine making approach. However, as I've watched him develop as a wine maker and I've seen the marked improvement in the wines coming out of San Juan Vineyards I have to admit that his vision of how a wine should taste and express itself is paying off. After his recent white wine releases which I raved about on my Seattle P.I. blog, I felt it was time to sit down with Chris and get some of his insights on the world of wine and his wine making philosophy.
As a member of generation X, Chris, at 40 years old would hardly be considered "old" for a wine maker. Yet, he has been around enough to stock away many experiences in the wine world. Born in Vincennes Indiana, a small town in the southwestern part of the state, Chris was only there for two years before his family moved to West Lafayette Indiana, so his father could attend college at Purdue University. In 1975 his family moved again, this time to St. Joseph Missouri where Chris experienced his younger years as a mid-western boy. In 1983 the family moved once again to Jefferson City, Missouri where Chris spent his teenage years and graduated from high school in '91. After graduating, he too went to Purdue University where he studied chemical engineering.
During his senior year at Purdue, he was required to take an elective class not related to his major. So Chris decided on a wine appreciation class taught by Dr. Richard Vine (you have to see the humor in that). That class met on Monday nights for sixteen weeks.
Chris recalls, "We would study three hours at a time and study either a different grape or region. He would go through the history of it. We would taste three different wines, two ounces each. It was the first history I had ever been interested in, I never really cared much for history or saw a reason for it. The history of wine to me, was absolutely fascinating."
He adds an interesting benefit of this class…" It taught me to drink in moderation. Sitting down and drinking three two ounce samples of wine, rather than slugging down beer or hard alcohol. It was amazing how the wine would lubricate everyone's tongue in the class and pretty soon you were talking with your neighbor and other people around you, and it became a lot of fun and we learned a lot about wine." Then Chris said something that I found very eye-opening…"The last week of that class, Dr. Vine set down three blind wines and all we had to do was tell him what varieties they were. To me it was as clear as day. You could smell it, I didn't even have to taste them. I cannot do that anymore, I don't have that ability. I look at wine differently now. Anymore, I look for balance in wines and what they have to offer in their fruit profile and I am not so concerned about what varietals that are in the wine."
After graduating from Purdue Chris moved to Seattle Washington for graduate school in chemical engineering at the University of Washington.
"Darla and I would make trips to eastern Washington and visit wineries over there. I was looking at this stuff and thinking…This is chemical engineering. You've got reaction chambers and valves and pumps. It's not just like it, but it was similar. I thought being involved with wine was a pipe dream. Being an idealist I thought it would be fun, but it's not reality, I'm a chemical engineer… I need to go do something else, work for Shell Oil, Dupont, or something like that."
On November 30, 1999 there was a W.T.O. protest in downtown Seattle that changed Chris' outlook on life. "When I went down there I realized that these people (the protesters) were very creative. There were a lot of very inventive people there, with good messages and a lot of good energy. It made me realize that I don't have to distill petroleum or make plastics and that making wine was something I could go do."
About a year after that event, Chris ran into Charles Sleicher who was the former head of the department of chemical engineering at the University of Washington. He turned out to be one of the founders of Associated Vintners which later turned into Columbia Winery. Chris remembers…" I saw him in the hallway, and I asked him how to get into the wine industry. He put me in contact with Bruce Watson who was the quality control manager at Columbia Winery. I went out and saw him, and he said he had a job opening in the barrel cellar. He said, 'we just want someone who can take instructions in English and show up to work on time, and we pay ten bucks an hour.' I told him I was in! He said, 'I really don't think you should take this job with your education. There's a company down in Kent WA called Supreme Corks, and they're making artificial corks and I think that's where your talents will be better used. And, you will make more money' (Chris laughs talking of the memory)."
Since Chris was a graduate student, he was not familiar with making any money yet, so he opted for the barrel cellar job. Chris continued researching wine and talking with people who were into it including wine maker David lake. While working at Columbia Winery, he realized that he needed to be where the grapes were growing. Neither Darla (his partner) nor Chris wanted to move to Eastern Washington, so they decided to move down to Portland, Oregon.
Chris started to work in vineyards and wineries in Oregon. He started to work at the Ponzi wine bar in Dundee Oregon and it was there that he was introduced to Pinot Noir. "It took a solid four months of tasting Pinot before I began to really understand them." Chris recalls. "Coming from Washington after working at Columbia Winery and going down there, it was totally different. It was like… What is going on!"
He spent four months at the Ponzi Wine Bar and during that time he met many wine makers. A lot of them would come eat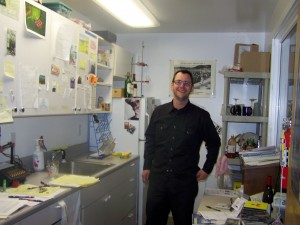 lunch at the wine bar and try to get their wines on the wine list. Chris rubbed elbows with many people in the wine business down in Oregon during that time. Jimi Brooks (Brooks & Maysara Wineries ) offered Chris a job doing wholesale wine sales and lab work. He discovered that people valued his ability to do lab work and his skill in that area. After working for Jimi for about a year, Chris felt a need to be more involved in the production side of wine.
"I told them that I can sell wine any day of the year, but making wine only happens once a year and I'm not going to miss that. So I quit that job and went to work for Adelshiem. I worked harvest, and had a great time, learned a lot working for David Paige, and got to taste some great wines."
After his short stint at Adelsheim, Chris landed a job with Jay Somers doing vineyard and winery work. Chris spent two years with Jay Somers (J.Christopher Wines and Holloran Vineyard wines), doing all the tractor work, and most of the hand labor on two vineyard sites. He worked in one vineyard that was planted in 1972 (Le Pavillon) and found it a privilege to work with some older vines.
Chris had aspirations to start his own vineyard in Missouri and that plan as he put it…"Failed miserably." So he found himself without a job and one day an opportunity jumps up at him. "Winejobs.com popped up with a job opportunity in the San Juan Islands for a vineyard manager and wine maker. I turned to Darla and asked her if she wanted to live in the San Juan Islands, and she said…'Yes'. I sent my resume in (there were about thirty that applied) and I got chosen. Ever since then I've felt that it is an amazing dream-like fortunate thing that I'm able to live in the San Juan Islands. I think it is one of the most beautiful places in this country, and I get to live here, grow grapes and make wine. It just blows me away."
Because I am so interested with his approach to wine making, I asked Chris if his experience with Pinot Noir has affected his wine making philosophy across the board, with all varietals. Here is what he said…
"Absolutely. I think all of the wine makers in Washington that had their start in Oregon bring a softer hand to wine making. We attempt to coax the flavors out of the wines, instead of trying to hammer them into your mouth."
As I mentioned earlier, I raved about the current releases of the San Juan Vineyard 2012 whites on one of my blogs. Knowing that Chris has an affection for Alsace whites and German Rieslings, I connected that passion with those wines, to the success of his whites.
"I took that wine appreciation class in the fall at 1995. The previous year I had worked at Dupont with a french exchange student." Chris remembers. "I got to know him very well. He was from southwest France, working in West Virginia. Seeing him come into the culture was just hilarious. He wanted to know where he could buy decent bread, and that just did not exist in the mid-nineties in West Virginia (We both laugh). I learned a lot from him. He encouraged me to come over and visit and spend two weeks during summer vacation with him in August. I was reluctant at first, but finally he talked me into it. We got the money together, and Darla and I spent sixteen days over there."
"He was living in Paris at the time, so we spent a few days there. During his summer vacation, he wanted to go look at middle-aged churches, churches built in the eighth and tenth centuries. So we drove from Paris to his aunt and uncles house in Alsace, and we stayed with them for a few days (you can see where this is going). While we were staying there, they were making food, and pouring 1989 rieslings. They were amazing, and went with the food so well. I also discovered Sylvaner while I was there. I had never heard of this grape variety and I became infatuated with it. They were amazing wines, and I really enjoyed them. In my mind at that time, only being involved with wine for less then a year, I wondered why these were not the most expensive and sought-after wines in the world. They had so much character, so much depth. They can go from bone dry and acidic to very rich and opulent. They just express the grape so incredibly well and the soil, with their minerality."
" In 2001 I discovered German Rieslings with a bottle of 1996 J.J. Pruum Auslese. It opened my eyes to what sweet wines can be and what Riesling really is. Those are the wines that I seriously enjoy tasting. The white wines (from Alsace and Germany) reflect the flavor of the grape, which is why I think you make wine. That is the true essence of wine… Those great flavors. I just love stainless steel whites…Unoaked, these wines are meant for food, they're not cocktail wines."
When Chris mentioned "cocktail wines" it got me to thinking about something that I see on the horizon for the wine world. I sense a trend coming towards interest in wines that are more feminine and terroir driven. I asked Chris if he has seen that also.
"I definitely see a lot more interest in that, when I go and pour for wine buyers. I'm not sure what people are buying off the shelf, I just don't have experience with the retail side of it. But I know from the wine buyers, what they are preferring, and that's wine that goes better with food. Less alcohol, under 14% or 14.5%, a balance of oak, so there is actually fruit that shows through along with a balance of tannins and extraction levels. I think all those things need to be in balance. I think too, that there is more travel and exposure to Europe then there used to be, so people are getting a flavor for these older world wines. I think there is less interest in those big, extracted 100 point wines."
"There is a group of us that get together on this island (one I am always invited to and can never make), and we did a line-up of 2007 Washington state Cabernet Sauvignon. There were eight of them, and in the group was a Cab that had received 100 points in a national magazine (this tasting is conducted in a blind format). The person that brought the 100 point wine was convinced that it would blow the rest out of the water. Like this hundred point wine was the Holy Grail and the sun would shine out of the bottle. That is not what happened. Out of the eight wines, I don't think it was even in the top three. She couldn't even recognize where her wine was in the line-up. I had it ranked dead last. I wrote down that it was syrupy, sweet and lacked definition."
"I've also seen an explosion in the interest in hard ciders (this is so true). I think the millennials have a lot to do with that, and cider is delicate. It tastes like fruit. I've also heard that the Millennials are very savvy to marketing attempts because of their research on and use of computers. They want something that is genuine and real. I think the wines that we are talking about are honest wines, that they don't have the make-up of oak and other things."
I talked with Chris about something that Gary Vaynerchuk said during an interview he gave. Basically Gary said that wine consumers in the U.S. had a better palate then most because of their exposure to so many wines from around the world. He had traveled to Spain and found that they were not familiar with any other wines except those from Spain and a few from France. This is true in many cultures such as France, Australia and Italy. They only drink wines from their region of the world. Wine drinkers in the U.S. have a more developed palate because of the vast exposure to wines from around the globe.
"I haven't really considered that before, but I think he's right…Absolutely. There are actually people in Washington that I talk to that say they don't drink anything but Washington wine and I find that sad. I did not hear that in Oregon when I worked down there, I never heard people down there say 'I only drink Oregon wine'. Wine makers are certainly not that way. I think it's accurate to say in general, we have a more developed palate in the U.S. because of our exposure to so many different styles of wine."
The discussion turned to the subject of wine consumption as a whole. Many today don't drink wine with food, it is more of a cocktail. Both Chris and I talked about our habits of drinking wine with every meal. So I asked him how often does he drink his own wine at home?
"With the whites it's very often. Not so much with the reds, but seven out of every ten bottles I open are whites."
Before Chris felt cornered by this question, I told him the reason I was asking that, was because he tastes his wine nearly every day at the winery, either out of barrel or in the tasting room. I know that if it were me, I would want to have something different at home. After clarifying, Chris had this to say…
"It's true. When I'm at home I want something different. I look at it as an education, and I consider that a joyful part of work. This past week I opened a Cab Franc from the Loire that I pick up from Port Townsend for twelve bucks and I thought it was great. It makes me think about how I can make wines more like that. As for my reds, I think they need at least two years in bottle before they really come back around. The 2009's, which are nearly sold out are just now coming in to being, I think, where they need to be to drink (amen to that, his '09 reds are really good right now!). I have some '06 cab sauv. (his first vintage at San Juan Vineyards) that I open and I like to drink, because they are drinking better than they ever have. I'm kinda holding on to the '08's for that reason."
I've observed this about the reds that Chris puts out. Many of them do not come to their fullest potential for a couple of years, and I tell my customers that. It is even true of some of his whites. His 2011 Pinot Gris just got better and better in the bottle as it got older. I actually was not as fond of it when it was first released. I asked him why that was the case with some of his wines.
" I don't know. I'm not sure if it is the amount of SO2 I use that causes that or? I filter all my wines, so maybe it takes that long to recover from filtration. Or, is it Washington wines in general? That they take that long to come around. It takes a solid eighteen months to two years for my reds to come around. The '09's right now in May, are dramatically different to me then they were in January. Pouring them yesterday, they are so generous in the fruit now, that was not there especially a year ago. I would prefer to wait for two years, and sell them when they're drinking nice. I think they would sell faster, and you could ask more money for them (I agree). But obviously that is not how the cycle works. We keep the reds in barrel for two years, so it would actually be four years before you would be able to recoup your money."
" I'm not sure if it is just me or it's true of other wine makers. I know that after seven years, I've got things more dialed in. At harvest, whenever we process the Merlot or the Cab Sauv., I open a vertical of all the previous years and see how they're doing. The '06's this year to me were the best they have ever tasted. I think the '08's are doing well, and the 2010 vintage I am really, really excited about."
" In '06, when I first got here (this was his first vintage ever as head wine maker) I asked a lot of questions from people I knew who were making wine in Washington and what they do. Making Washington wine is a lot different then making Pinot in Oregon. It was a very stressful year for me. It was all new and it was incredibly stressful. The wines ('06) got a lot of great attention, but I wasn't thrilled with them, they weren't inspirational to me. In '07 I pretty much did the same thing, and I didn't enjoy those, it was a rough year. When '08 came, I started doing cold soaks and doing more stuff like we did in Oregon with Pinot, and I really liked the way those wines turned out. I got a lot of feedback from other wine makers that they were too tannic. In '09 I backed off the extraction a little bit, pressed earlier and thought I lost some definition in the wines. In 2010 I went back to what I was doing in '08 but with a little softer hand, and I think I really did a great job."
"Also in 2010 I was able to purge all the American and Hungarian oak that we had that I inherited from previous wine makers. 2010 is all French oak and only 10% new. That was another thing when I came to Washington. I would ask other wine makers what percentage of new oak they used. The minimum was 40%, and I just think that's too much. In the last two vintages, '11 and '12 I've gone to no new oak at all. I found a very reliable person who resales their barrels that they take very good care of, and they buy very high-end oak. I buy them after they use them for two years."
"We contract fruit by the acre. An acre is going to be around 3 1/2 tons. We bring that in and that all goes into one fermenter, and it's fermented as one lot. That makes about ten barrels of wine. In those ten barrels I will have some newer oak and some older oak. In the spring, we rack that wine off it's settlings. We then wash and sanitize the barrels and then put all that wine that has kind of been homogenized with the oak, back into those barrels. That way, the oak is spread around (and you thought wine making was easy). I go through and taste the wines because I top the barrels monthly, so I do a thorough tasting once a month of all the different lots. When I'm doing that, I'm checking for any flaws… If there is reduction, or something's going wrong. When I'm doing that I always go to the older barrels, because they are the ones that have the most transparency for me to see if something is arising, and it has the most fruit essence. I find myself really gravitating towards those barrels and kind of regretting that I have to soak them in oak sometimes. I found that neutral barrels are a better way to show off the fruit. I think that's moving me closer to finding wines that are inspirational to me, like the 2010's."
We spent a little time talking about Chris' progression as a wine maker and his focus on making his wines in a consistent style. San Juan Vineyards estate fruit is Siegerrebe and Madeleine Angevine. The Siegerrebe is one of his signature wines, and I've watched him take that fruit to new heights over his seven year reign. Chris might tell you different, because as he admits, he is his own biggest critic. There have been many times that I have disagreed with him about his assessment of some of his wines (when it has been negative). Because they dry farm at the vineyards, the fruit shows more floral qualities and minerality. The Madeleine Angevine under Chris' supervision is nothing short of an intense Sauvignon Blanc in style. I think it's important to approach it that way (Chris agrees) because many are not familiar with the grape.
I had just put on a tasting event featuring Randall Grahm as the guest speaker. Chris attended the tasting and made an astute observation of something Randall said…
"We were talking about these big intense wines earlier, and there was something that Randall said in his presentation that I thought was really dead-on. If the wines aren't big, super-concentrated and intense, people don't feel like they're getting their moneys worth. I always attributed it to people drinking Coca-Cola or coffee and their mouth not exercising sensitivity. I think he (Randall Grahm) might have something there. Ravenswood has that slogan 'No Wimpy Wines'. That's kind of the mentality too, of not having wines that have subtlety and nuance."
That comment lead me immediately to a discussion about Robert Parker Jr. who has been (rightfully so) accused of promoting huge, extracted, unctuous (his favorite descriptor) wines. Many have used the term "Parkerized" to describe wines that are made in that big style. After ranting a bit about Parker, I wanted to get Chris' opinion about wine critics, especially those who write for magazines that allow wineries to advertise on their pages. He made some interesting observations.
"No underdog gets a high score. There's no, no-name person who puts out a fantastic wine that gets scored, because they don't taste every wine. It's like giving out awards to restaurants, a lot of this is who you know and relationships you have with people and getting put on these people's radar. Not that the wines with great scores are not fantastic wines, but that has a tremendous amount to do with it (Chris is measuring every word on this subject). Hopefully (in the end) it's up to the consumer. They have to be aware of that, and I'm not sure of how aware they are of what is going on. A guy I worked with down in Oregon said that wine is a participatory sport, it's not a spectator (no pun intended) sport. He said…'Be a wine participant, not a wine spectator' (I wrote that down for a future article).
"When you go into a restaurant they don't just have one thing on the menu because it got a hundred points. Everyone likes different flavors. You can say that, in trying to rationalize why some people don't like the wine you do. In our tasting group, when ten people get together, there are some wines that get rated first by one person and last by a different person. All these people know wine, they have good palates and they all have experience tasting wines. People enjoy different things. That's why some people don't eat broccoli and some people do. Wine is so subjective."
When it comes to wine and critics I've often held that a wine writer (critic) that comes from selling wine at a retail outlet has an advantage over other critics that come from a different field of work. When selling wine, if you are any good at it, you have to work hard at understanding different palates. I asked Chris if he had any thoughts on this.
" I think they have some advantage, because they have to deal with the public, and get the feedback of many different people…Different ages and income levels, and what wines they enjoy. They bring a better perspective to the wines. They probably have a more open approach when tasting the wines, seeing things that others may not. Other reviewers are not sitting down and listening to what other people have to say about the wines at all. I really don't think there are that many bad wines out there anymore. Maybe twenty years ago there was, but now with technology the wines are pretty solid. Not many of them have serious flaws anymore."
I personally agree with Chris on that point, but I do run across some bad wines more often then I would like to. One of my personal pet peeves is wines that are homogenous…Vanilla wines. Part of this problem has been attributed to some of the globe-trotting wine consultants that infuse their view of wines in wineries across the globe. I wanted to hear what Chris had to say about this.
"You have to make money or the winery is not going to be around. If that's how you have to make money, then do it. They are still good wines, They are very celebrated wines. Personally I don't think they're honest wines…What I refer to as honest. I think there's a lot of make-up in constructing these wines. Any time you manipulate a wine, you're taking something away."
I believe this last statement by Chris summarizes his philosophy on wine. He just wants an honest wine, and that is what he is striving for in the wines coming out of San Juan Vineyards…Honesty.
I appreciate the time Chris took to sit down and talk with me. I know Chris has a bright future ahead of him and I look forward to reviewing his honest wines for years to come.
Cheers! Stan The Wine Man