I want to apologize for being late on this one, mostly because it is such a good value and a lot of you have already been back for more. This time my pick hails from southern France, a place I often go-to for great values. Carignan, the much-maligned grape, especially by Jancis Robinson, a well-known wine writer who mentioned at one time that they should rip out all the Carignan vines. Well, everyone is entitled to their opinion and I happen to totally disagree with her on that. In my career, I have happened upon many a great wine made from this grape. The vines can be quite vigorous and produce a mind-blowing amount of fruit. Careful growers, make sure to prune accordingly and lower the yields so the fruit quality is much better. My pick for this month comes from old vines (Vieilles Vignes) which can, if taken care of properly, produce grapes of greater distinction. I'm not implying that this wine will ever make the Top 100 list in any wine periodical, but I am saying that it delivers a lot for the money. To put it bluntly, the price is stupid for what you get.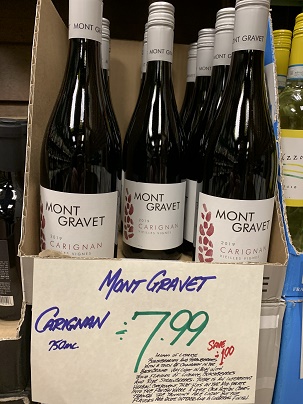 2019 Mont Gravet Carignan Vieilles Vignes (Pays d'Herault, France)… $8.
Aromas of licorice, blackberries and strawberries with a pinch of cinnamon coming through. Very light in body (Gamay-like) with solid notes of licorice, blackberries and ripe strawberries. There is an interesting herbal component that comes through on the mid-palate into the finish where a little cola action sneaks in. The tannins are light but the flavors have a nice intensity and the finish lingers. A steal at this price. Just saying. (B)
Cheers!
Stan The Wine Man