I bet I had you all confused! For some reason, I put July's pick as November. Now that's getting ahead of myself. The problem has been fixed and it's on to September. When I reviewed this wine on my YouTube channel, I was very excited. It immediately became a candidate for my top forty list of wines under twenty bucks, a list I put out in December. Josh Maloney is the winemaker and he did an excellent job with this Washington State red blend that is new to the market. I have already sold a ton of it and have received solid feedback from my customers.
2018 Dixie & Bass Red Blend (Columbia Valley, WA) …$12.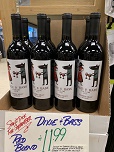 Aromas of ripe currants, vanilla, mocha and boysenberries with a touch of tobacco. Currant notes on the palate, supported by soft, structured tannins. This baby is seamless in the mouth. Cherry notes sneak out on the mid-palate into the finish where spice and tobacco notes join the party with just a pinch of veggie. A nice balance of acidity, tannins and fruit. This baby over-delivers! A blend of 54% Cabernet Sauvignon, 27% Malbec, 17% Merlot and 2% Cabernet Franc. (B+)
Cheers!
Stan The Wine Man